By Jani Roberts - >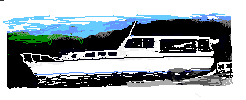 This is my own sketch of my boat and home for the past 4 years. She was built in 1937 by Elco - the Electric Boat Company - of New Jersey of oak and cedar with a mahogany saloon and internal fittings. She is 41 feet long and 11.5 feet wide. She draws 2 ft. 9 in. so she can travel safely in quite shallow water. She was built capable of being taken up on the plane. Top design speed is 20 mph... not very high by today's speed boat standards! But to reach that speed I would have to jazz up the engines - and shake loose every joint.
She was built for the bead-wearing 1930s set to cruise around Manhatten but some how she found herself in England in 1938 and then joined the British navy. I do not know if she went to evacuate the troops at Dunkirk.
The original advertisement for her says that she is designed to be able, if desire, to "ship a man" who will have his own access to the decks for "early morning cleaning". This convinced me that this boat was for me!
I am quite in love with being a water gypsy. She is warm and snug in winter no matter if ice lies beside. She is a delight in Summer. She rocks me to sleep, her walls curve around me. She is dry and comfortable, has a bath, shower and tumble drier .... what else could a woman want! Well yes, a phone... she has that too and is on the 'net.

Click to return to the Library Entrance.
To Contact Jani Roberts