The Seven Days of My Creation:
Tales of Magic, Sex and Gender."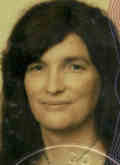 Granny Weatherwax move over! ref
This book will tease and intrigue. It is a well researched very original account of witchcraft and mysticism, of patriarchy and religion, as learnt during a 50 year journey that took the author from living as a Catholic priest, studying with the Jesuits, downwards in social stature to womanhood, to bringing up children, living and working with Aborigines then, back in her own Celtic and British lands, to be an eco-warrior crone, a muddy-seated witch and a low priestess.
The story of a journey.
from a monastery that was a castle,
when she was ordained a priest
then worked with Australian Aborigines for over 15 years,
was challenged by Mother Teresa of Calcutta
and, while living with Aborgines,
came home to her womanhood,
and then, as an international investigative journalist
taking on De Beers and the diamond cartel,
making films for Frontline, the BBC, the ABC and Channel 4,
banned from diamond mines
and gaining entry to them,
was arrested, nearly killed,
reported massacres,
took on the White House
and the drug companies.
investigated monkey viruses found in a common human vaccine
lived in forests with eco-warriors
and helped a friend die.
Now with this book she conquers her last fears,
and is open and proud about her magic,
the Craft in which she is a High Priestess and now a Crone.
She explains the history of magic
the common roots of mysticism
the story of Christianity and Gender.
She tells how she eventually found her home
in the legacy given to all of us
that teaches that nature is sacred and imbrued with divinity.
the legacy that is within us.
Click here to explore this fascinating very original e-book
"The Seven Days of My Creation: Tales of Magic, Sex and Gender."
reference - Granny Weatherwax is a wonderful crone witch who knows her "headology" and who inhabits some of Terry Pratchet's novels. Back To Granny